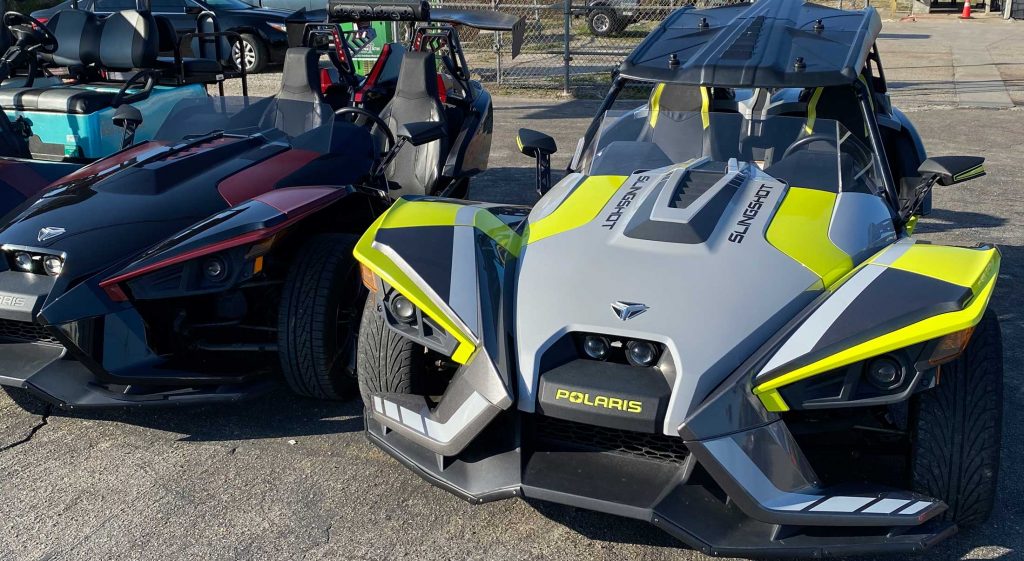 What is a Slingshot®?
A Slingshot® is a three-wheeled motorcycle that is super fun to drive! It's the perfect ride for cruising the beach in style and getting noticed. It has an open air cockpit and places you five inches off the ground. It's a one-of-a-kind beach experience.
Now available in two and four seaters!
What are the requirements for renting?
You will need to bring a valid driver's license.
Do I need to reserve my Slingshot®?
Reservations aren't required, but are a good idea if you want to ensure availability.
Call to cancel a reservation. Cancellation requests must be received a minimum of 24 hours before your reservation date.
What is the price?
Please call for up-to-date pricing.
Do I need insurance?
You are required to have personal insurance. We do not offer insurance.
Where do I pick up my Slingshot®?
You can pick up your Slingshot® at our Panama City Beach location.
How do I return my Slingshot®?
Your rental must be filled up with premium gas before return.